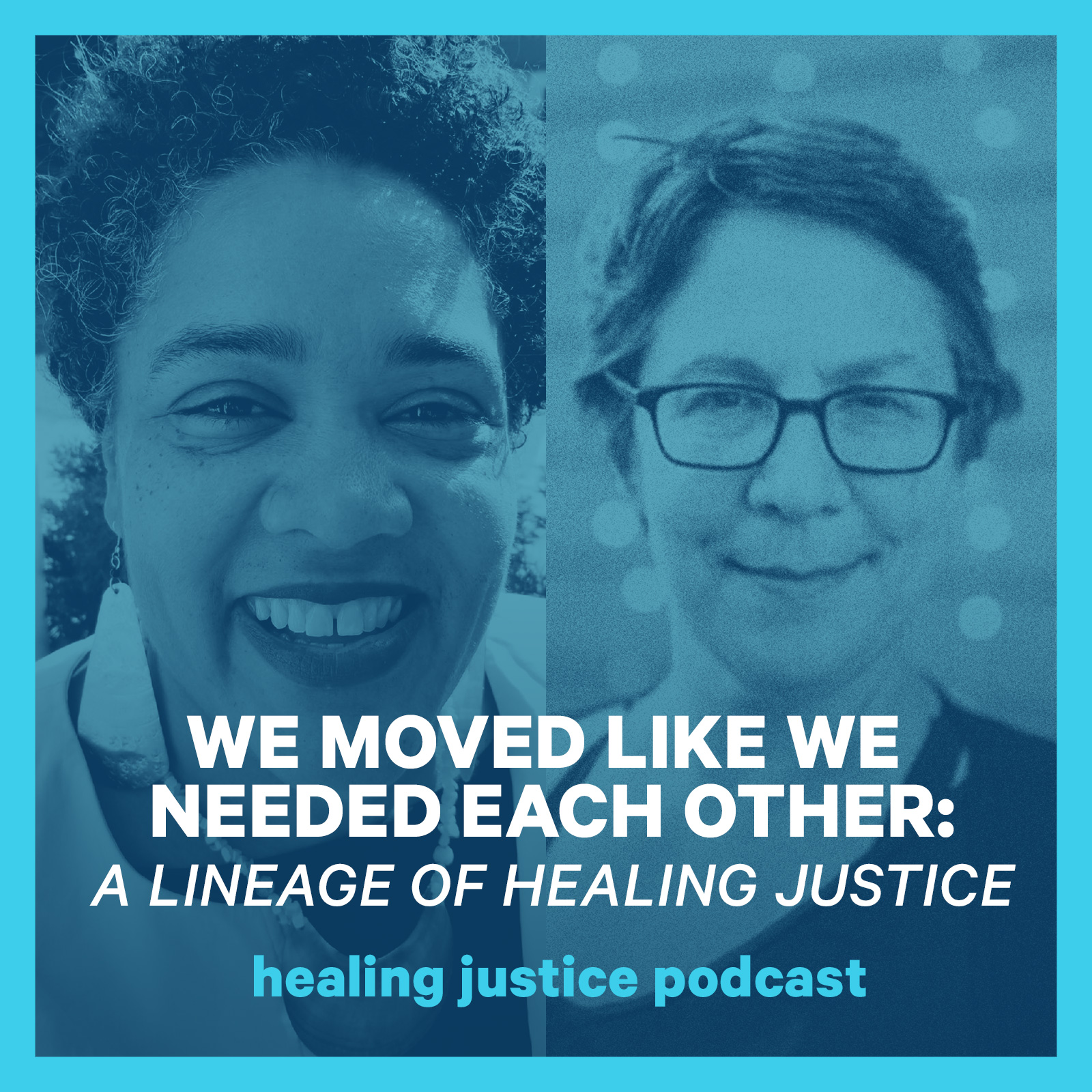 In this episode, healing justice leaders Cara Page and Susan Raffo join host Kate Werning for a conversation about

the origins of the contemporary framework of healing justice, stories and learnings from early collaborations in the South and at the Atlanta and Detroit US Social Forums, how nothing is just an issue - everything we care about deeply ties to our embodiment, the importance of safety, and the fine lines between ownership, appropriation, co-optation, and trust.



PRACTICE:

Download the next episode for instructions for a grounding practice of building an altar or sacred space, led by Cara Page. (We release a new conversation every Tuesday, and the corresponding practice on Thursday - so check back then if you don't see it yet!)
** As a brand new podcast, we need you to subscribe, give a 5-star rating, and share a positive review to help us continue. Join us in the sustainability and viability of this project and subscribe, rate, & review now! **
Check out the incredible guests and topics we'll be featuring coming up and sign up for the email list to hear when new episodes drop at
www.healingjustice.org
MEET OUR GUESTS: Cara Page & Susan Raffo
CARA PAGE is the Director of Programs at the Astraea Lesbian Foundation for Justice, and most recently was the Executive Director of the Audre Lorde Project. Over the past three decades, she has worked within movements for queer & trans liberation, reproductive justice, healing justice, and racial and economic justice. She is co-founder and former Coordinator of the Kindred Southern Healing Justice Collective and former National Director of the Committee on Women, Population & the Environment. For her outstanding achievements in community organizing around the arts and social justice, Page has received awards and fellowships from the National Center for Human Rights & Education and The Rockefeller Foundation. As an Activist-in-Residence at the Barnard Center for Research on Women, Page will deepen her study on historical and contemporary eugenic practices and medical experimentation to shape a public discourse on the historical and contemporary role of eugenic violence as an extension of state control and surveillance on Black & immigrant communities; Lesbian, Gay, Bisexual, Two Spirit, Transgender, and Gender Nonconforming people; people with disabilities; and Women of Color. Through creating political writings, cultural performance and communal forums on these issues she will gather a cohort of healers/health practitioners, cultural workers, organizers, scientists and service providers to transform institutional eugenic practices; and memorialize sites of eugenic practice to bear witness to these atrocities and begin to organize and heal.
SUSAN RAFFO is of Italian, German, Irish, French-Canadian descent and Anishinabeg-descent. Her people were farmers, stonemasons, union members, and tradespeople. Across all of her family lines are histories of assimilation, passing, and disconnection from home, family, land and history.  She currently lives on Dakota land in its seventh generation of settlement. Susan began to study bodywork in 2005 and struggled to feel that this work was as politically relevant as community organizing, but in 2009 she attended the Healing Justice Practice Space at the US Social Forum in Atlanta and it changed her life. For the first time she found movement people, radical people, social justice people, who were  interested in the places where systems of power and oppression were held in the tissues of the individual body as well as within systems and communities. Susan is interested in work that refuses to separate how we individually connect with life from how we collectively claim our lives. She works towards the end of the medical industrial complex and wants to lift up practices and traditions that have been co-opted or forced into disappearance. She is trained in multiple forms of craniosacral therapy, as well as in Global Somatics (a form of Body Mind Centering). Her practice is based on deep listening and working with the body, supporting the conditions for shifting deeply held (sometimes generational and historical) patterns that show up as pain, anxiety, stress, and disconnectedness. Susan is also a writer, having published
Queerly Classed
in 1995 and
Restricted Access
in 1997. Right now she is blogging about healing justice and liberation work at
https://susanraffo.blogspot.com
, and is currently building out
www.susanraffo.com
. ​
REFERENCED IN THIS EPISODE / FURTHER RESOURCES
- Healing Justice at the US Social Forum: A report from Atlanta, Detroit & Beyond (the report by Susan & Cara we refer to in the conversation)
- Kindred Southern Healing Justice Collective needs statement & strategies
- Susan's healing justice blog
- People's Movement Center in Minneapolis, where Susan practices
- More from Cara Page's performative body of work on anti-Eugenics and the medical industrial complex: performance installations in partnership with the Asian Pacific American Institute at NYU here & here, and a video in collaboration with the disability justice performance troupe, Sins Invalid
- Healing Justice Practice Spaces: A How-To Guide
JOIN THE COMMUNITY
Check out the incredible guests and topics we'll be featuring coming up and sign up for the email list to hear when new episodes drop at
www.healingjustice.org
Follow us on
Instagram @healingjustice
, like
Healing Justice Podcast on Facebook
, and tweet at us
@hjpodcast on Twitter
We pay for all costs out-of-pocket and this podcast is 100% volunteer-run. Help us cover our costs by becoming a sponsor at
patreon.com/healingjustice
THANK YOU
This podcast is mixed and produced by Zach Meyer at the
COALROOM
Intro and closing music gifted by
Danny O'Brien
All visuals contributed by
Josiah Werning

Photo of Susan by Ryan Stopera